New Project Management Interface [IMAGES]
By Francisco Sáez • May 31, 2012
The new user interface of FacileThings is about to come to light. In a few days a Beta release that covers the Project Management section will be published, so you can check it out.
In addition to new features such as archiving inactive projects, the ability to sequence actions or using reference materials stored in Evernote, the new UI will be accompanied by a new design and will include many technological enhancements that allow much faster performance and better usability.
Here you have the first images: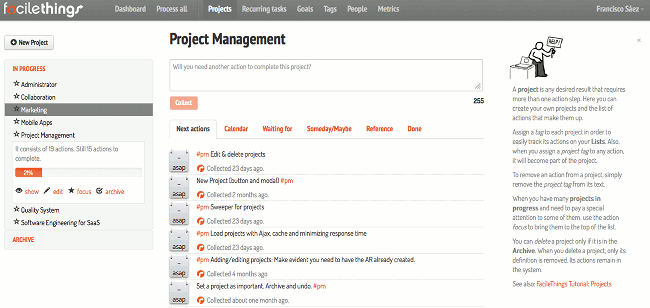 4 comments so far
This post is closed to new comments.
Try our GTD Productivity Tool for Free, with Unlimited Access until April 1
Most popular
Don't you know our GTD Tool?
Productive blogs
43 Folders ~ Merlin Mann


Time, attention, and creative work.

GTD Times ~ GTD Times Team


The hub for all things GTD.

Lifehacker GTD ~ Lifehacker Team


Tips and downloads for Getting Things Done.