FacileThings: Changelog (January 2015)
AUTHOR:
Francisco Sáez
In recent weeks we have made some minor changes and bug fixes in FacileThings. Here is the list of modifications.
Reference Material
We added the Perspective tab when editing an item belonging to the Reference Material list. This way, you can change the project the information belongs to (before you could not) and assign material specifically to a goal or area of responsibility.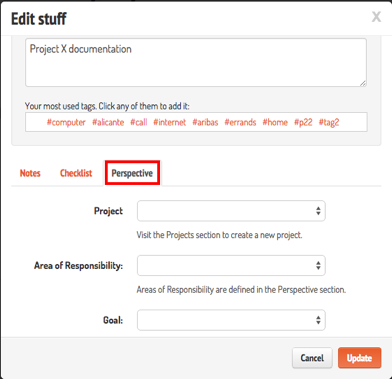 And now the list of Goals is shown in alphabetical order, for a better visualization.
Perspective
Some of you complained because you could not properly write your Purpose and Vision in just 255 characters. We have changed these fields to allow the entry of a text of any length.
In the case of visions, we also added a shorter name as a title that allows referencing that vision more suitably in other parts of the application.
Routines
We have fixed a small bug in the calculation of dates. When the Calculation on completion option was selected (routines advanced configuration), the program did not take into account the Calculation start date (if selected too) to figure out the next date.
And since we have detected some confusion in the use of these two fields, we have tried to better explain its meaning on the configuration tab.
The Calculation start date field allows you to establish exactly when you want the routine first appears on the Calendar. If selected, that will be the base date for the calculation; if not, the calculation is based on today's date.
For example, in a routine that is repeated every three days, the first date is within 3 days if you do not pick a different starting date of calculation. However, if you select February 15th, for example, the first date of the sequence will be February 18th.
On the other hand, if you enable the Calculation on completion field, the program will calculate the next dates by applying the frequency to the date of completion of the task, rather than to the scheduled date, which is as it does by default.
A practical example: In the case of a routine every three days, say the first task will appear on the Calendar the February 18th. If you have not activated this field, the next one will appear the 21st; the next one, the 24th, and so on. With the Calculation on completion field activated and the first action appearing the February 18th, the next date would depend on the day you set it as "done". If you get it done the 20th, then the next task would appear on 23rd, instead of 21st.
Other minor changes
We fixed an error that occurred when delegating routines or repetitive tasks.
We fixed an error that occurred when entering comments longer than 200 characters in a delegated task.
We have improved the charset decoding system for incoming emails, so latin languages are now better decoded.
We have set up a second server for sending emails (Fastmail) so we can activate it in case the main one (SendGrid) fails.
We have begun to visually show where you can use keyboard shortcuts. We will expand this help: