How Is Technology Changing the Way We Hire
AUTHOR:
Rachel Eleza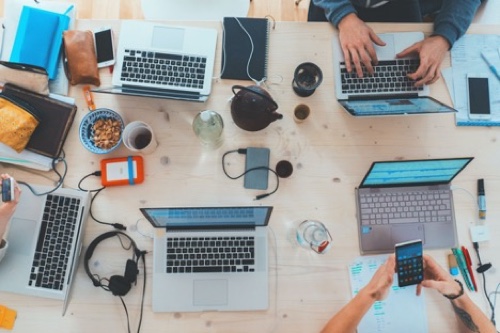 The overall productivity of a company is the sum of every employee's individual performance; this fact empowers us to search for innovative ways that can help us find the best talent for our companies.
The traditional hiring process didn't massively change before the 21st century. However, as the new century brought in modern pieces of technology that are streamlining every aspect of human life, the way we hire also changed.
Today, technology is a major component of every HR department's hiring process, and for good reasons. Technology has revolutionized the process we approach filling our job openings; here are a few ways how that happened.
Hiring on social media platforms
Gone are the days when social media platforms, like Facebook and Twitter, were only used for sharing pictures of your kids and pets. Nowadays, social media serves as a major recruitment hub. According to a report by Forbes, more than 37% of employers use social media to look for candidates.
Over the recent years, these platforms have embraced the hiring activities being conducted on them — and provided better and more efficient ways to do so. For example, Facebook now has a separate Jobs section where it displays job openings around a user's location.
Remote work capabilities
The concept of remote work was non-existent when we go back a couple of decades. We came across this phenomenon in the early years of the 21st century, however, it still didn't get the prominence it deserved.
With the COVID-19 outbreak at the end of 2019, we faced a severe alteration in how businesses are conducted. Due to the lockdowns imposed by governments, companies were in a weird situation where they couldn't summon their employees to offices for work. That's when the concept of remote work elevated to its peak.
Today, with the use of modern remote work tools, such as remote interpreting platforms, companies can hire talent from across the globe. Companies now prefer candidates which are well-suited for remote work environments, and candidates are learning skills that reflect their adaptability to the new system.
Ultimately, modern technology is the reason we embraced remote work. If the COVID-19 had hit us a decade ago, when remote work capabilities weren't as streamlined as they're today, companies might have to face much worse circumstances.
PEO (Professional Employer Organization) Services
Small- and medium-sized businesses that don't have the resources to set up their own HR department, can utilize PEO services to handle their recruitments. PEO services are responsible for taking care of many crucial components of employee management.
PEO services, such as NHGlobal Partners, are especially useful for hiring remote employees and making them work with maximum productivity. PEOs can help you overcome the hurdles that come with working with employees living in various parts of the world.
Mobile phones and other types of computers
The modern computing devices we have in our pockets today, i.e., smartphones, weren't always there to aid us in our communication. If we look back a couple of decades, we'll see candidates traveling dozens of miles just to submit their resumes. Smartphones and laptops, in collaboration with the internet, have efficiently fixed that problem.
Today, employees can look for jobs, apply to them, get hired, and even start working; all from their portable computing devices. Employers use computers to effectively communicate with their potential employees to shortlist them, before inviting them to the office for an interview. Moreover, with the rise of meeting and remote work software in the past couple of years, the majority of interviews are also now conducted online.
Screening applicants
Many modern job board websites provide us with various filters to differentiate between candidates of various skill sets. Thanks to these filters, employers nowadays don't have to go through dozens and even hundreds of useless applications.
Filtered applications help employers save a lot of precious time that can be spent on performing more productive tasks.
Final word
Hiring and making the most out of employees is crucial for companies to thrive in the tough competition today. Luckily, technology makes it easier for employers to look for their perfect employees, hire them, and employ them from anywhere, anytime.