GTD: The Definitive Guide to The Weekly Review
AUTHOR:
Francisco Sáez
GTD is a methodology for personal organization that promises you stress-free productivity if you make good use of it. For this, it is necessary to establish three key habits:
Collect or capture in your system anything that you consider unfinished or incomplete.
Process all the stuff you have been collecting, that is, clarify what each thing means.
Review your system on a regular basis, for it to be clear and match your current reality. A Weekly Review is usually recommended.
In my experience, and according to the feedback I get from FacileThings users, the Weekly Review is the hardest habit to achieve and the main reason why people no longer stay organized and, ultimately, stop using GTD.
If you think about it a bit, it's normal. The Weekly Review has all the ingredients of the tasks that we most tend to put off. It requires a long time (from half an hour to two hours, depending on your level of activity), it is complex (it is a task which in turn is broken down into a good list to check points) and nobody forces you to do it. So if it's Sunday, 24ºC and the beach is crowded, will you do the Weekly Review or will you go to the beach bar to take a beer? That is an easy decision, right?
Since we want to help you reach that state of maximum productivity that GTD offers, we have built in FacileThings a guide to the Weekly Review that removes the complexity of the task and helps you complete it within a much more reasonable period of time (20 to 30 minutes may be enough):
Step 1: Collect all loose papers
Gather all business cards, receipts, and paper-based materials you have been collecting during the week and bring them into the system. Then stop for a moment to think if there is anything else on your mind that you should capture.
You can use the keyboard shortcut Ctrl+Enter to collect and PgDown (fn+down arrow on Mac keyboards) to continue with the next step.
Step 2: Get your Inbox to zero
Process what you have captured in the first step and all outstanding stuff.
You can also use the keyboard shortcut PgUp (fn+up arrow on Mac keyboards) to go back to the previous step.
Step 3: Look at your previous Calendar data
Here you can see all the pending events in your Calendar and the ones you have completed the previous week. Upgrade the pending items and capture anything you think you need to definitely settle these tasks.
Step 4: Prepare your upcoming Calendar
Look at your future Calendar events (you'll also see the Tickler File events that will be activated in the coming days) and capture the actions needed to prepare them properly.
Step 5: Review your Next Actions list
Review your whole list of Next Actions. Check off the tasks you've already completed, move things that should be in other lists, and update the information.
Step 6: Review your Waiting For list
Check off the items you have already received. For the rest, capture the follow-up actions you consider relevant.
Step 7: Review your Projects
Review each of your active projects. Put on hold (waiting) those you cannot continue for the moment, and mark those you have finished. Ensure that at least there is one Next Action for each project in progress.
Step 8: Review your Someday/Maybe list
You are almost done. The time has come to be creative. Review the items in your Someday/Maybe list (only the ones that are not associated with any project are shown). Is there anything that should be done now? Anything that you feel like doing? See if there are things you may activate and process them. Remove items that are no longer of interest or have become obsolete.
Step 9: Be creative and courageous
Take a few minutes to meditate. Are there any new creative and wonderful idea that is hitting your mind? Capture it!
Step 10: Clarify and finish!
Likely, during the review you have collected new stuff and ideas. Process them and you're done.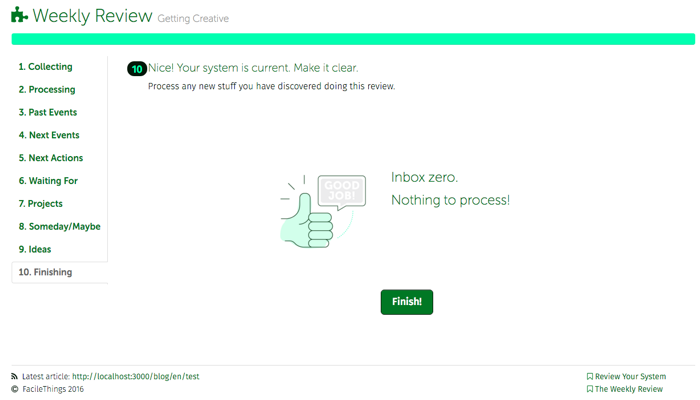 As always, this is a first approximation and we expect your feedback to improve it and make it more useful. Thanks for your support!