ADVANCED TUTORIALS
Likely, some tasks that you should not do—or you just do not want to do—will appear in your daily workflow. In these cases, you must delegate them to other people or entities and put them in your Waiting For list, so that you can be reminded and track them when you are doing the Weekly Review, and take the appropriate action if necessary.
Since you're still responsible for those tasks and surely they will have an impact on other future tasks or projects, you must be aware of their progress.
There are several ways to delegate a task to a partner:
When you are processing it, you can write the collaborator's @name in the text and send the task to the Waiting For list.
You can edit an action in your Next Actions list, add a @name and then click the Waiting For option.
In the Waiting For list, you can use the graphical interface to assign the task to one of your contacts:
If you delegate an action to a person who has not been created yet, it will be automatically created. You can delegate tasks from your Lists, your Projects, the People section, the Process option and the Weekly Review.
If you have delegated the task to a real contact, he will receive an email and an internal notification. If you delegate a task to an external contact, he will receive an email with a link to a Guest Area where he can update the task.
If you change the person assigned to a task (assigning someone else, by clicking the Do myself option or eliminating the @name in the text), an email will be sent to the previous owner of the task so he does not continue with it.
When delegating a task, you must explain very well what it is about and include all the information you can. You can use the task notes to add more information, and include a checklist if it facilitates understanding and tracking the work.
Tracking your delegated tasks
In the Waiting For list, you can check how your delegated tasks are going: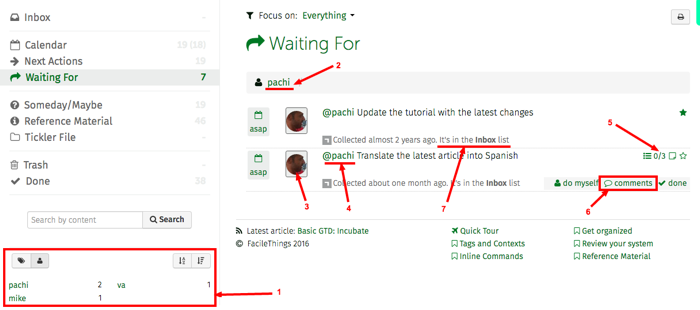 Tasks by person. Unlike other lists, which are filtered by tags by default, the Waiting for list is filtered by people, so you can focus on the tasks of a particular person at anytime.
Filter applied. To remove the filter, click on the name by which you're currently filtering.
Assigning a person. Graphical interface to assign a person to a task.
People names in the text of the tasks. If you click on a @name, you will go to the People section page that contains all the person's data.
Checklist. If you delegate a task with a checklist, here you can see how many checkpoints are already done and which remains undone.
Comments. You can have a conversation with your partner to clarify issues about the task, answer questions, etc.
Indicator of situation. If the task belongs to another FacileThings user, the list where the task is currently in his system is shown here.
Also, when your collaborators write a comment on a task or get it done, you will receive an email and a notification in FacileThings. When a task is completed, it's automatically moved to the Done list.
External contacts
If you are sending tasks to external partners, please let them know in advance so that they are ready and can receive emails from FacileThings.
When you delegate a task or add a comment to a delegated task, your partner will receive an email with the info and a link to a Guest Area, where he can see the task instructions, update the task and have a conversation with you about it:
Description of the task, including notes.
Checkpoints. By checking off the points, your task will be automatically updated.
Comments. Your colleague can chat with you and view the log of the entire conversation.
It's done! Your collaborator must click here when the task is completed. After that, your collaborator will no longer have access to it.